I like lists! I think that magazines and the internet
(damn you buzzfeed)
have been forcing lists down our throats for so many years that I actually think in lists a lot of the time!... As such I've decided i'm going to start writing some of my blog posts in beautiful list format... Exciting I know.
I'm starting things off with films from the 1980s that you can get some good wardrobe inspo from (The '90s draft is already done). I'm a sucker for soaking in the visual delights of a cheesy '80s flick... The abundance of hairspray, overly generous application of blusher, massive shoulder pads. Just yes!!...
Pretty in Pink (1986)– Once you get over the fact that Duckie is played by Two And a Half Men's Jon Cryer (I lie, you never get over it you just learn to live with it), you'll realise how great his wardrobe is. Even though Molly Ringwald takes the lead as Andy- the smart, angsty high school student with a knack for fashion design, it's supporting characters Duckie (who's like a better dressed version of a modern day hipster) and the ever eccentric Iona, whose wardrobe's will have you lusting after over-sized blazers, round shades and PVC dresses. Not just the typical wardrobe of most mainstream films of the era, seriously setting this film ahead in the fashion stakes.
Dirty Dancing (1987)- Ok I know including this classic is a biiiiiiit of a cheat since it's actually set in the '60s... But I couldn't not list this when Jennifer Grey's wardrobe is like a 90 minute American Apparel commercial! Leotards, high waisted shorts and jeans, pretty flowing dresses... All very simple but all very stylish.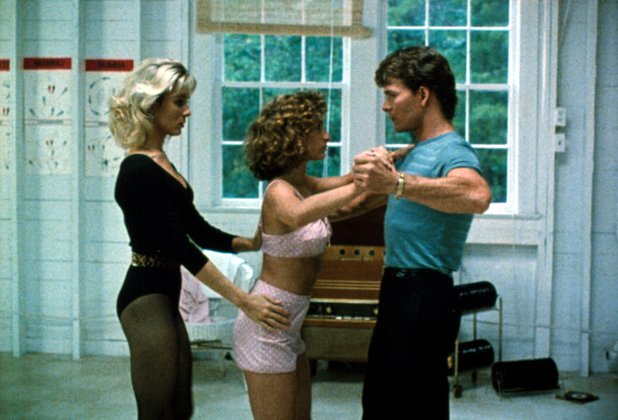 Heathers (1988) - Probably my favourite '80s film, a
cult classic and as far as I'm concerned the blueprint for Clueless and Mean Girls, Heathers is packed with sartorial inspiration as well as some of the best quotable lines I've ever heard-
'Well fuck me gently with a chainsaw', '
Grow up Heather, bulimia's so '87', 'Whether to kill yourself or not is the most important decision a teenager can make'- gahhhh the list goes on and on..
. Anyway, returning to the point, you'll be hard pressed to find a scene where you wont wanna be jotting down outfit notes. Veronica (Winona Ryder) is impeccably dressed from start to finish and the Heather's blazers and skirts sets are divine. Betty Finn also brings some rather pleasing geek chic to the table and I want a Big Fun t-shirt... Now!!!!!... Too much goodness to list so if you haven't already- WATCH. THIS. FILM.
Girls Just Wanna Have Fun (1985)- I must've seen this film about 50 times... Not even exaggerating, I know most of the script. Starring a before-they-were-famous young Hollywood cast of Sarah Jessica Parker, (as Janey Glenn), Helen Hunt (as Lynne Stone) and Shannon Doherty (as Maggie Malene), there are some good and bad outfits in this one (for bad see Jeff Malene's belly top at the end of the film... Complete with very hairy belly. Just no). Lynne Stone is the style maverick in this one, my personal highlight being the grasshopper hat, over-sized yellow tee with cutout and black leotard combo (pictured below). This is a bit of an obscure film so unfortunately I couldn't find as many pictures as I would have liked... I implore you to watch it to witness the magic that is Lynne Stone's fur hat, baggy coat and military belt outfit- sounds so wrong, looks so right!
(the outfit you need to see in full!!)
Working Girl
(1988)-
There's not much I can say about the film itself; I've only actually seen it once and it's certainly no favourite of mine, but Working Girl makes my list for one big reason- Power dressing. Shoulder pads for days, suits to die for, gorgeous coats; Melanie Griffiths looks great from beginning to end. If I ever worked in an office i'd dress like this!... Though i'd leave most of the hair in the '80s where it belongs.
Desperately Seeking Susan (1985)
- Where would any '80s list be without this fashion classic?!... Showcasing some of the most iconic looks of the '80s Lace, beads, metallics, bralets, blazers, hair bands, crop tops- this film never misses a sartorial beat. It's like an A-Z of everything good about '80s clothing and the once goodness that was Madonna. If it hadn't been done to death for ever fancy dress party of the last twenty years i'd gladly dress like Madonna's character Susan every day just to brighten up my life!! Bloody brilliant. The pictures really do speak for themselves...
Coming to America (1988)- Saving the best till last- who doesn't like this film?!?!... Coming to America is so entertaining that just thinking about it makes me want to abandon writing this list to go and watch it right now! Prince Akeem (Eddie Murphy) and Semmi (according to my best friend, my apparent doppelganger Arsenio Hall), arrive in New York in attire so fabulous that that one scene alone is enough to comfortably secure them the place as the winner of this list. The coats, matching hats, gold chains and leather gloves (see picture one) combinations are on point, if I could find a winter coat and hat like Semmi's i'd probably throw the rest of my clothes away and live in them! I once saw an elderly man dressed very similarly walking down Brick Lane, best dressed man I've ever seen!! The king and queen also provide their fair share of looks with a decadent array of furs and turbans. And the scenes set it Zamunda are an aesthetic feast of beautiful, colourful prints and turbans.
So there you have it, my top '80s film sources of fashion inspiration. What do you think??
There are so many great '80s films i'm sure to have missed something important- is there anything else you guys think should've been on the list??... Films only! (There will be other posts about TV shows etc) xx
(Disclaimer- I do not own any of the pictures used in this post. The pictures are used for commentary purposes only. If you own any of the material and wish to have it removed please e-mail me and I will do so).